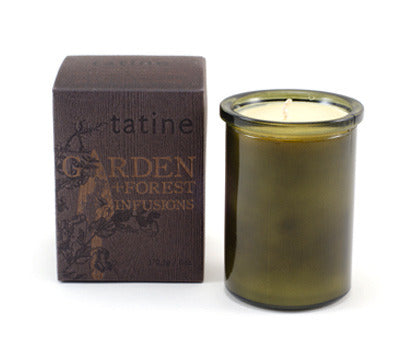 tatine candles: garden + forest infusions collection
inspired by nature, these handcrafted candles are enclosed in heavyweight, industrial, vintage glassware sourced from 40% recycled materials and contain 100% cotton wicks. tatine uses carefully chosen fragrances and hand blends each batch for a subtle aromatic gesture.
candle size: 170.1 g / 6 oz 

approx. burn time: 45 hours 
black mission fig 
herbaceous tagetes green marigold oil, woody davana oil, sweet sunburnt red fruit and mulberry 
creeping moss
bulgarian petitgrain oil, virginia cedarwood oil, yellow rose, oilbanum absolute (frankincense), rich musk, herbal moss and sweet balsamic
woodsmoke
cedar moss, fir balsam, elemi (a fragrant resin obtained from trees) smoky kindling, natural clove, and fir needle oils
black hemlock + green jasmine
green jasmine + white blooming jasmine flower, evergreen leaves, woody vetiver, black hemlock + co-distilled woods, green watery aromatic notes of grasses, leaves + stems.
more items to rouse you...