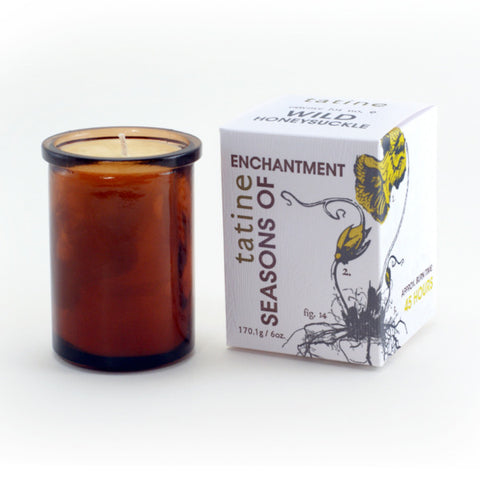 tatine candles: seasons of enchantment collection
crafted by hand and enclosed in industrial, vintage, amber brown glassware sourced from 40% recycled materials, these gorgeous candles  are made from all natural waxes and 100% cotton wicks. their carefully chosen fragrances are hand-blended into each batch for a subtle aromatic gesture.
candle size: 170.1 g / 6 oz
approx. burn time: 45 hours

available scents: cedarwood, forest floor, sandalwood and amber laurel

cedarwood
woody and balsamic, alpine evergreen and the aroma of cedar chests, a bouquet of freshly sharpened pencils.
forest floor
wet dirt mingled with rain soaked ferns, damp wood, stems and green leaves, mossy overtones and heady damp garden soil
sandalwood botanical
antique sandalwood, thyme, pine, woody vetiver and earthy wet green base notes
amber laurel
botanical bay laurel ash, juniper, dark amber myrrh, woody vetiver and soft muget


more items to rouse you...