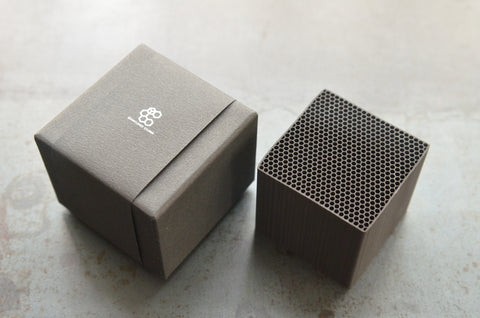 chikuno charcoal air freshener cube
a japanese air freshener made from an ultra fine powder of activated bamboo charcoal and clay minerals. activated bamboo charcoal is a form of carbon processed at high temperature levels, making it extremely porous and creating a large surface area. while it looks smooth and solid, it actually has numerous invisible holes that absorb and trap harmful substances from the air such as allergens, smoke, and odors.
we think the chikuno cube works best in small, enclosed spaces such as refrigerators, closets and trash bins. it is eco-friendly and can be re-used for up to one year by simply exposing it to direct sunlight every few months.  
 visit our learning tableau page for more information about the benefits of charcoal.
dimensions: 4.4 cm / 1.75 in square, packed in a black box

more items to rouse you...